Highly Functional
Stair Building Equipment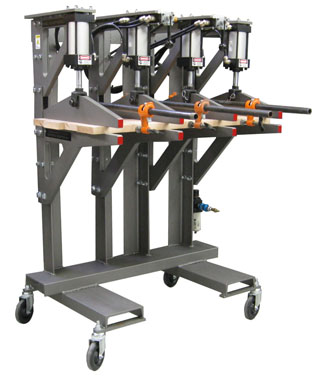 PANEL CLAMP-ITTM MODEL 244 (Shown)
Our panel clamp is used for gluing up tread blanks or panels. It is designed for use by a low skill operator. Operate dual knobs to open clamp. Load boards, add glue as you go. Operate dual knobs to automatically align boards and lock clamp. Complete tread blank gluing with pipe clamps as needed.Operate dual knobs to open clamp and slide out tread blank for glue drying. The Panel Clamp-It TM Model 244 is a rugged built machine which will stand up to years of use. It outlasts and outperforms any existing means of panel clamping.
FEATURES
Super heavy duty steel construction
Operator choice of panel width
Standard treads and panels squared accurately
Rigid and square clamp arms
Full clamping power on every tread or panel
Completely pneumatic
Minimal operator training required
Easy to load and unload
Rugged squaring stops (no loose pieces)
No hand adjustments required
Available widths unlimited
Multiple clamping stations for flexibility
Lifetime Construction
SPECIFICATIONS
Footprint w/o Overhang (Model 244) ……………. 43"w x 28"d
Height (minimum overall) ……………………………. 43"
Machine Weight (Model 244) ……………………….. 800 lbs
Working Height (adjustable) ………………………… 34″ – 38″
Air Required ……………………………………………….. 80 PSI Clean & Dry
Clamp Support Rail Width ……………………………. 4″ each station
AVAILABLE OPTIONS
24″ Deep x 4′ Wide
24″ Deep x 6′ Wide
24″ Deep x 8′ Wide
Custom Depths and Widths
Pipe Clamps With Pipe
Casters For Mobility In Small Shops
How It Works, Panel Clamp-It™
This Pneumatic only machine requires 80 psi clean and dry compressed air.
Open the Panel Clamp-It™ using the dual knobs (two hands for safety). We have provided a hard stop at the back of the machine for the operator to load boards to.
Load boards and apply glue as boards are loaded.
Clamp the boards by using the dual knobs (two hands for safety).
Full clamping pressure is applied.
Complete the panel by adding pipe clamps as needed.
Open the Panel Clamp-It™ and slide out your panel for glue drying.
VIDEO
Panel Clamp-It™ Model 244 Video
How to Buy Section
Click Stair Equipment Datasheets (PDF 277.39kb) to view our datasheets for all of our stair equipment. You can print just the datasheet you are interested in (color printing looks nice.) View the video for the piece of equipment you are considering. The video can be seen at the bottom of each product page here on our website. Click on one of the links below.
Contact us and request pricing for the specific machine(s) you are interested in. We will mail or email current pricing to you. If you are in a hurry, and most of us are, please call us direct 1-908-233-2600.
Learn More