Highly Functional
Stair Building Equipment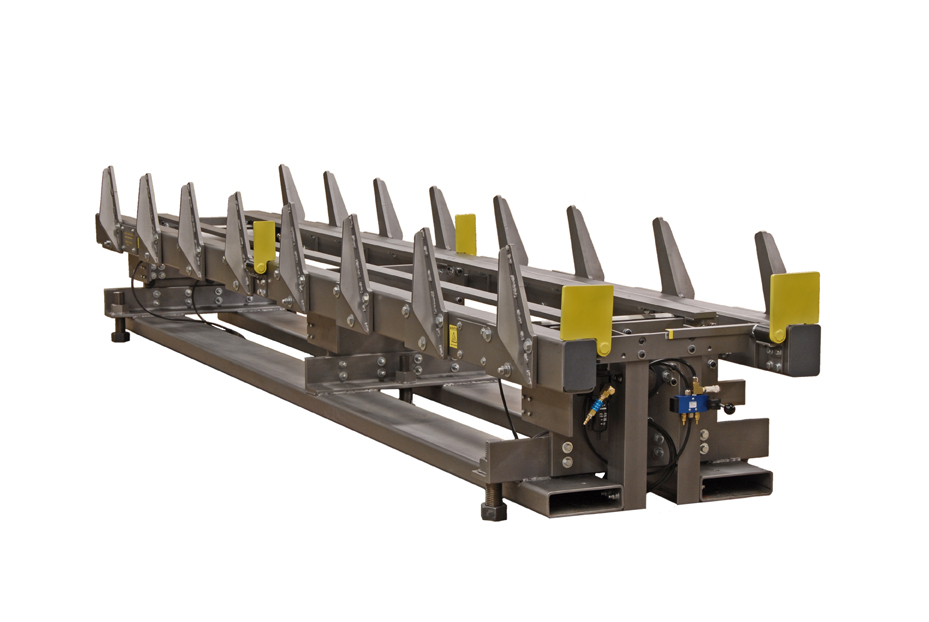 STAIR-CLAMPTM MODEL 16 (Shown)
Our stair clamp is used for box stair construction is rugged yet precise. It is designed for use by a low skill operator. Operate knob to set desired opening using the inch scale. Load stringers, risers & treads and again operate knob to automatically lock clamp. Complete stair assembly with your choice of glue, wedges, nails, screws, etc. Operate knob again to open clamp and slide out finished stair. The Stair-ClampTM Model 16 is a rugged and well built machine which stands up to years of use. It outlasts and outperforms any existing means of box stair assembly.
Features
Super heavy duty steel construction
Operator choice of stair width
Standard box step squared accurately
Rigid and square clamp arms
Full clamping power on every step
Completely pneumatic
Minimal operator training required
Easy to read scale for width opening
Rugged flip up squaring stop (no loose pieces)
No hand adjustments required
Stringer lengths unlimited
Multiple stair assembly stops
Lifetime Construction
SPECIFICATIONS
Footprint w/o Overhang…………….. 44" x 144"
Height…………………………………… 45" (+3″ With Casters)
Machine Weight………………………. 3500 lbs
Working Height……………………….. 24″-29″ (+3″ With Casters)
Air Required…………………………… 80 PSI Clean & Dry
Stringer Support Rail Width…………4″ each side
AVAILABLE OPTIONS
12′ Stair Clamp Length
14′ Stair Clamp Length
16′ Stair Clamp Length
Custom Lengths
Full Pressure Indicator
Extreme Working Height
Casters
How It Works, Stair-Clamp™
This Pneumatic only machine requires 80 psi clean and dry compressed air.
Open the Stair-Clamp™ to the desired opening using a single control knob.
We have provided a scale on the machine to guide you to the desired opening (no tape measure needed).
Load two stringers.
Insert treads and risers to your pre-routed stringers.
Close the Stair-Clamp™ using the same single control knob to clamp your stair true and square.
Complete your finished stair with glue, wedges, glue blocks and choice of nails or screws.
Open the Stair-Clamp™ using the single control knob and slide out your finished stair.
VIDEO
Stair-Clamp™ Model 16 Video
Wedgit™ Model 30 Close Up Cutting Video
How to Buy Section
Click Stair Equipment Datasheets (PDF 277.39kb) to view our datasheets for all of our stair equipment. You can print just the datasheet you are interested in (color printing looks nice.) View the video for the piece of equipment you are considering. The video can be seen at the bottom of each product page here on our website. Click on one of the links below.
Contact us and request pricing for the specific machine(s) you are interested in. We will mail or email current pricing to you. If you are in a hurry, and most of us are, please call us direct 1-908-233-2600.
Learn More