Highly Functional
Stair Building Equipment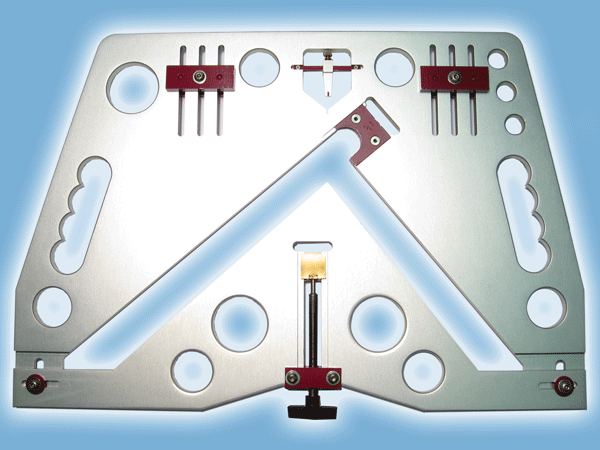 STAIR-TEMPLATETM MODEL 7
Our stair template is a simple to use and cost effective solution for routing box stair stringers by hand. The Stair-TemplateTM Model 7 is a rugged and well built tool which stands up to years of use. It outlasts and outperforms any existing means for hand routing stringers.
FEATURES
Heavy duty construction
Operator choice of Rise & Run
Standard box steps are consistent
Self contained clamps for rigid routing
One template for all your steps
Completely mechanical
Minimal operator training required
Reversible for left & right stringers
Rugged two piece cast aluminum body
Set it and forget it for production jobs
Unlimited Rise/Run combinations
Extreme sizes are easy to handle
Designed by stair builders like you
SPECIFICATIONS
Dimensions………………………….29" x 21"
Thickness…………………………….5/8"
Weight…………………………………33 lbs
Works With Cutters………………7/8″ Dovetail
Air Required………………………..None
Electric Required………………….None (For Template)
AVAILABLE OPTIONS
3 1/4 HP Electric Hand Router
Right Hand Routing Bit
Tape Measure
Extension Cord
Box of No. 2/HB Pencils
How It Works, Stair-Template™ Model 7
This simple to use and cost effective solution for routing box stair stringers is strictly mechanical.
Layout one run line using the included rise run square.
Mark step locations using a pencil and the rise run square.
Clamp Stair-Template to stringer using the self contained clamping system
Hand rout stringer using template as your guide.
Comes with routing bit, four cam followers, three nosing pieces and a stair square.
How to Buy Section
Click Stair Equipment Datasheets (PDF 277.39kb) to view our datasheets for all of our stair equipment. You can print just the datasheet you are interested in (color printing looks nice.) View the video for the piece of equipment you are considering. The video can be seen at the bottom of each product page here on our website. Click on one of the links below.
Contact us and request pricing for the specific machine(s) you are interested in. We will mail or email current pricing to you. If you are in a hurry, and most of us are, please call us direct 1-908-233-2600.
Learn More