Highly Functional
Stair Building Equipment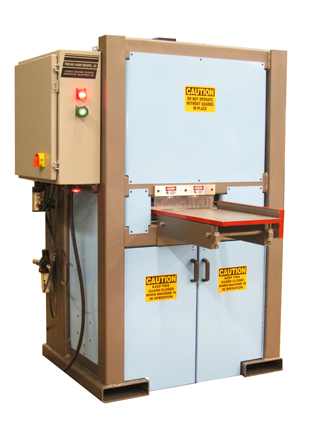 Tread-Saw™ MODEL 20
The Tread-Saw™ automatic tread return saw is great way to cut your costs when fabricating finished treads with returns. Our design integrates three up-cut saw blades to give you accurate trimming of your stair treads in preparation for nailing or gluing tread returns for finished stair treads. This easy to load and unload tread saw will cut stair treads fast and with high quality.
Our simple to use design will allow almost anyone to cut stair treads for accepting the tread return component of your finished stair treads. This stand alone machine has a small footprint and will fit in almost any part of your shop. The Tread-Saw™ Model 20 uses PLC technology to automatically cut treads to fit your stairs. Simple operation requires minimal training.
Load board
Press Cycle
Machine will automatically clamp the board
Machine will then cut the end of your tread to accommodate the application of a tread return
Dual clamps automatically release the board
Operator removes the board
Repeat for next board.
DESIGN ADVANTAGES
Positive clamping (will not move during cuts)
Hard stops for board end and board edge
Simple operator controls (Power and Cycle)
Open table design accommodates cuts for retreads
Easy loading and unloading of material by operator
Compact footprint for small locations
Simple head adjustments to accommodate blade sharpening
FEATURES
Minimal operator training
PLC control
Pneumatic clamping power
Does not require programming
Standard 8″, 10″ & 14″ blades
Heavy duty steel construction
SPECIFICATIONS
Footprint w/o Overhang…….. 43" x 34"
Height w/cover down…………. 96"
Weight……………………………… 1500 lbs
Motor Power Required………. 208-220VAC 3PH 30A
Control Power Required…….. 115VAC 1PH 15A
Air Required…………………….. 80 psi clean and dry
Blade Size………………………… 8″, 10″ & 14″ Diameters
How It Works, Tread-Saw™ Model 20
Our machines run on 208-220 volt 3 phase service to run motors. We also require 120 volt service for control and 80 psi clean and dry compressed air. All our machines operate under electrical control with pneumatic clamping.Cut your tread boards in preparation for applying your tread returns. Adjust the length of scrap, depth of nosing and angle for return. Once things are set repeating the same tread return cuts over and over again requires no adjustment. Get consistent cuts enabling you to easily fabricate the treads you need when you need them. This tread saw is a fully automatic tread return up-cut saw.
VIDEO
Tread-Saw™ Model 20 Video
How to Buy Section
Click Stair Equipment Datasheets (PDF 277.39kb) to view our datasheets for all of our stair equipment. You can print just the datasheet you are interested in (color printing looks nice.) View the video for the piece of equipment you are considering. The video can be seen at the bottom of each product page here on our website. Click on one of the links below.
Contact us and request pricing for the specific machine(s) you are interested in. We will mail or email current pricing to you. If you are in a hurry, and most of us are, please call us direct 1-908-233-2600.
Learn More